Clarksburg Country Run, November 14, 2021!
Clarksburg Country Run 2021!
The Half Marathon course is PA USATF certified. All routes are accurately measured.
The Half Marathon is a PAUSATF Championship event and USATF Marshals will be present on the course as well as the finish line. For a list of other PAUSATF events, course rules and standings, please visit http://www.pausatf.org/indexrr.html.
Aid Stations
Aid stations with water and fluid replacement and are located approximately every 1.2 to 2.1 miles. Each water station will include both water and Gatorade.
COURSE MAPS
View or print a PDF file of the 2021 course map here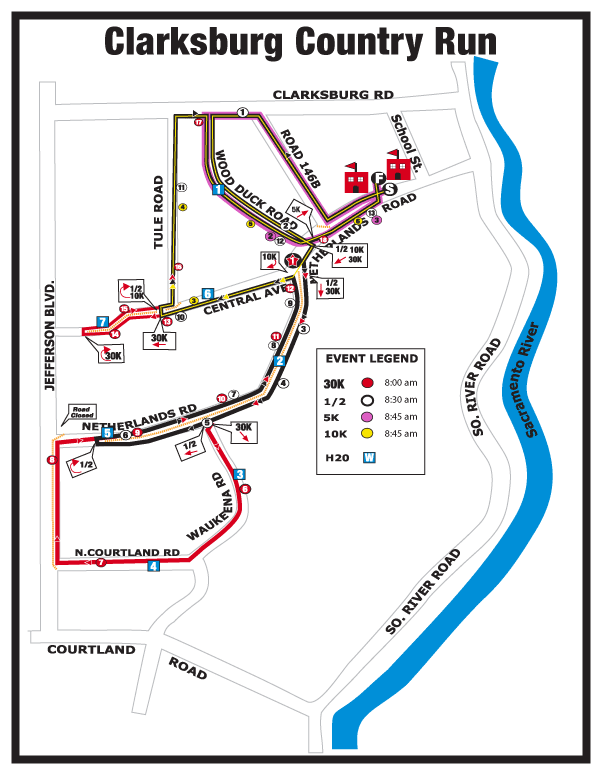 Course Time Limits
Aid stations and finish line are open for these paces. The Half Marathon, 10K and 5K are walker-friendly.
Clarksburg Country Run Course cut-off time is 12:30 pm.
Please see below the Course Time Limits as we must be respectful to both our residents and the road closure permits we have obtained.
Runners please complete the course at a pace of:
30 km-13:20 min/mile (cut-off time 12:30pm)
Half Marathon-18:20 min/mile (cut-off time 12:30pm)
10K-1:45 (about 17 minutes/mile)
5K-1:00 (19 mins/mile)
Start times:
30 km-8:00 am
Half Marathon -8:30 am
5K/10K -8:45 am